Beacon Hill Homes for Sale
Browse Beacon Hill Homes Available for Sale Below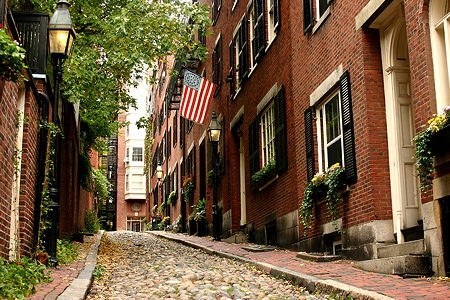 Beacon Hill is one of Boston's most important cultural centers. The area is famous maintaining that enchanting New England quaintness amidst Downtown Boston's urban fervor. Beacon Hill is also unarguably one of Boston's most important centers for history, antique shopping, and world class dining.
Beacon Hill derives its name from the beacon that used to stand atop the neighborhood's central hill to warn all of Boston if there was an imminent attack. Beacon Hill is also home to the historic Massachusetts State House.
The combination of a small village feel with all of the convenience of big city life makes Beacon Hill one of Boston's most sought-after neighborhoods and consequently the home of some of Boston's most prestigious addresses. Residents never tire of the beautiful gas-lit, cobblestone and brick streets. One can never tire of walking such a historically and architecturally rich neighborhood.
In addition to the area's history and amenities, Beacon Hill is perfectly located in relation to other parts of Boston. Firstly, Beacon Hill Borders the Boston Common allowing for easy use of Boston's best urban recreational area. Downtown Boston and the Boston Waterfront are a quick walk or cab ride. Boston's hottest center for shopping, Newbury Street, is an easy walk as well. If you are planning on moving to Boston or relocating within the city, Beacon Hill has beautiful homes available now.
If you'd like to schedule a viewing of one of these Beacon Hill homes for sale or have any questions about the Beacon Hill properties below, please contact Spark Realty Group today.
More information on Boston - Beacon Hill real estate »
More information on Beacon Hill, Boston, MA homes:
Number of properties currently on the market in Beacon Hill, Boston, MA:
Single Family: 10 Properties
Condo: 15 Properties
Multi Family: 2 Properties
Land: 0 Properties
Number of new Beacon Hill, Boston, MA Real Estate listings in the last month:
Single Family: 2 Properties
Condo: 5 Properties
Multi Family: 0 Properties
Land: 0 Properties
Average list price for Real Estate in Beacon Hill, Boston, MA over the last 6 months:
Single Family: $5,049,800
Condo: $3,250,455